Chain Vise Stand
for Hydraulic Cylinder Assembly
Heavy Duty Chain Vise Stand
CH-S20
The heavy duty chain vise, is designed to secure and clamp hydraulic cylinders for disassembling and assembling process in hydraulic shops.
An easy set up tool for your workshop to save time and energy! Or upgrade your workshop with a complete set of Nutbuster and accessories.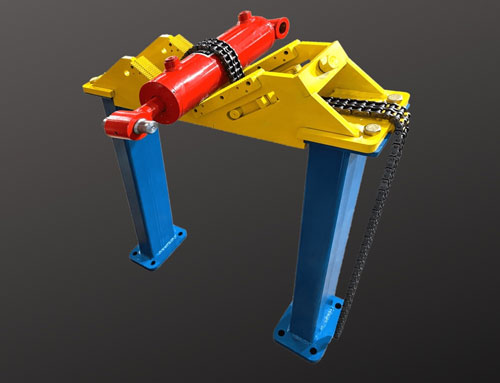 Hydraulic Cylinder Chain Vise Stand
Specifications
Stand contains two legs and a chain vise . It will be bolted to the ground.
The chain vise secures cylinders up to 20".
Once secured, the cylinder will not move as it is disassembled or as it's gland is removed.
Hydraulic Cylinder Chain Vise Stand
Options
Order a pair to safely work on longer cylinders.
Add a tray underneath to collect the oil easily. The tray can be supplied on request.
Want to learn about our other Hydraulic Machine Shop Equipment?