CYLINDER ROD POLISHER

AUTOMATIC / MANUAL MACHINE
Automatic / Manual – APR-24
APR-24 Rod polisher is a high-quality, reliable machine designed for efficient and precise polishing of rods. It features a manual and automatic Full PLC/VFD system, providing greater flexibility and ease of use. With a 7.5 horsepower, VFD controlled 1,750 RPM PMAC motor as the spindle drive, 3 horsepower, 3600 RPM sander drive and ¼ horsepower DC variable motor as the sander head travel drive, this machine allows for easy adjustment of the RPM of the rod, from 0 RPM to 300 RPM.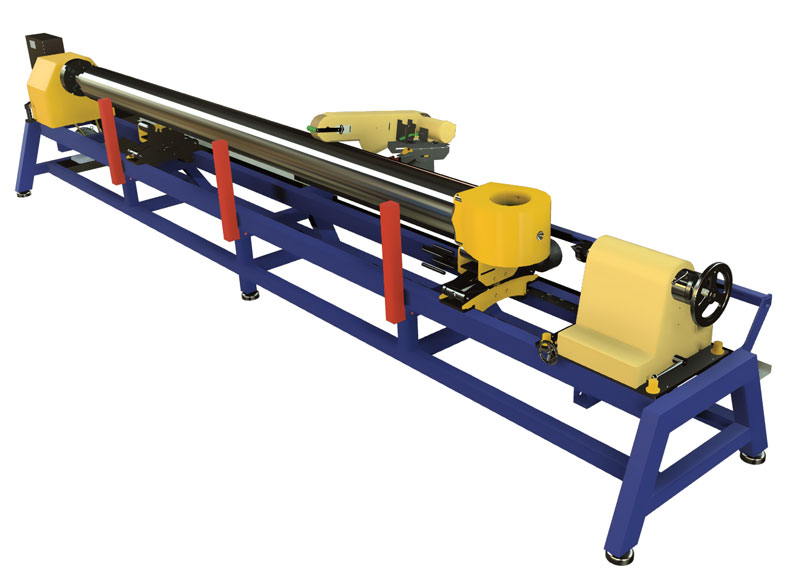 PRODUCT BENEFITS
Efficient and Precise:
The APR-24 is designed for efficient and precise polishing of rods, ensuring consistent results every time.
Safe and User-Friendly
The machine features adjustable limit switches and rollers for safety, as well as an easy-to-use control panel.
Versatile
The frequency drive and adjustable sanding belt make this machine versatile for various polishing and repair jobs.
VOLTAGE   360-460 V, 3 PH, 60 HZ
AMP   20 AMP 
MAX LENGTH OF ROD   20 FT
MIN LENGTH OF ROD   18 IN
MAX EXTERNAL RODDIAMETER   15 IN
MIN EXTERNAL ROD DIAMETER   1IN
MAX ROD WEIGHT   10,000 LB
MAX WIDTHOF EYE ON ROD   12.5 IN
MAX DIAMETER OF EYE ON ROD   24 IN
VOLTAGE    PMAC7.5 HP WITH VFD
SPINDLE SPEED CONTROL RANGE   0 TO 300 RPM
MODEL    GATOR20″
DIAMETER    20 IN
NUMBER OF JAWS  4 INDEPENDENT
BELTS   2 B102

 

 
SIZE OF    #6
ADJUSTABLE   YES
LOCKING SYSTEM   YES
 MOTOR     3 HP, 3450 RPM
SAND BELT WIDTH    4 IN
DUST COLLECTION PIPE    3 IN
SAFETY COVER    YES
AUTOMATIC & MANUAL  YES
SANDER ENGAGEMENT  ELCTRO PNEUMATIC
SANDER PRESSURE CONTROL  YES
ELECTRICAL BOX
FUSE FRZ ATDR30 GLS/600V/30A

FUSE 5A 

FUSE 3A 

FUSE 1A 
SANDER BELT
Polishing Head
The polishing head can be used in either automatic or manual mode, and features a hood protecting the operator from pinch points. There is also a 3″ diameter port to connect the dust collecting system.
Dust Collecting Cover
The dust collecting cover attachable to an external dust fan helps to keep the workspace clean and free of debris.
Position Adjustment Limit Switch
The position adjustment limit switch allows for accurate positioning and prevents over-polishing.
Electro Pneumatic Sander Engagement
The device's electro pneumatic sander engagement ensures precision and consistency during the polishing process.
Electrical Cabinet / Control Cabinet
The APR-24 features a NEMA electrical cabinet with overload protection and stop/start buttons, as well as an emergency push button for safety.
Automatic / Manual Feed System
The APR-24 features an automatic/manual feed system for greater control and flexibility.
Cycle Counter Control
One of the key features of the APR-24 rod polisher design is the ability to set the automatic polishing cycle number conveniently through a user-friendly touch screen.
Sander Pressure Control
The sander pressure control allows the user to adjust the pressure for optimal polishing results.
Chuck and Tail Head Design
The chuck on the left and tail head on the right end side, with a chuck design of 4 independent jaws and a diameter of 20″. The chuck and tail head are both fixed in height, and the tail stock accepts tapper shank morse #6.
Manual and Automatic full PLC/VFD System
The APR-24 features a manual and automatic PLC/VFD system, providing greater flexibility and ease of use.The PLC can handle complex control sequences and logic, while the VFD can provide adjustable motor speeds, enabling operators to optimize the polishing operation for different types of rods or desired finishes.
Emergency Stops and safety guards
The emergency stops and safety guards ensure safety during operation.
Want to learn about our other Hydraulic Machine Shop Equipment?